Are you looking for safer, more effective health solutions?
Take charge of your health and feel empowered to help your body heal itself.
(Ready to join doTERRA? Skip to the Incentives Section.)
Essential oils have been used for thousands of years. Some of the first references to the healing oils were listed in Bible. The first being in Genesis 37:25, which mentions Myrrh. Many essential oils have a hundred or more chemical compounds, each with their own job.
They work together to help the body heal itself and sooth aches and pains. Then came the advent of modern medicine. Scientists learned how to isolate individual compounds, create a similar synthetic version and put it in pill or liquid form. The disadvantage? The individual compounds were not meant to be isolated, instead they were designed to balance the others out. This leads to side effects. Now, there is a paradigm shift where people are returning to healthy diets and natural ways for their primary  and secondary medical care and using modern medicine as a third choice.
In 2008, a group of people formed doTERRA and started began working together with farmers and distillers to create the highest standards of essential oils. The foundation of a great oil is the environment in which the plants are grown, harvested, and distilled or cold pressed. Now, more than a million families use doTERRA essential oils world wide.
Let me introduce you to doTERRA
Not all essential oils are the same. Look at this chart to find out how they are different.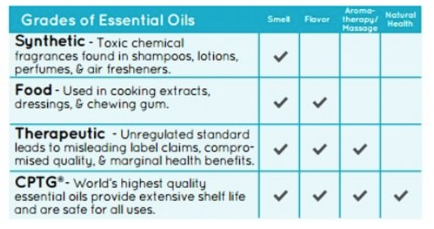 Watch this video to find out what a doTERRA Essential oil is.
What makes doTERRA's essential oils the best?
Trivia: doTERRA is the largest distributor of essential oils IN THE WORLD!
 Purity: They do not contain fillers or artificial ingredients that would dilute their active qualities. Proper extraction and quality control methods also ensure that dōTERRA essential oils are free of any contaminants, such as pesticides or other chemical residues.
Proper Harvesting: The right part of the plant must be harvested at the right time. If the plant has not been grown in the right environment, harvested at the right time, or not distilled under the right conditions, the natural chemical makeup of the extraction will not provide as predictable and powerful a benefit. In some cases, the wrong plant part harvested at the wrong time may result in an extract that contains harmful levels of some constituents.
Third Party Testing: dōTERRA essential oils are subjected to rigorous mass spectrometry and gas chromatography testing to ensure extract composition and activity. The initial tests are not done in house. Instead, they are tested by Dr. Robert Pappas. Oils that do not pass Dr. Pappas' tests for purity are not purchased from the distiller and sold by dōTERRA. These essential oils represent the safest and most beneficial essential oils available today.
We call this grade of oils

So why would you want to choose doTERRA's Essential Oils?
When would I use essential oils?
Click the image to enlarge.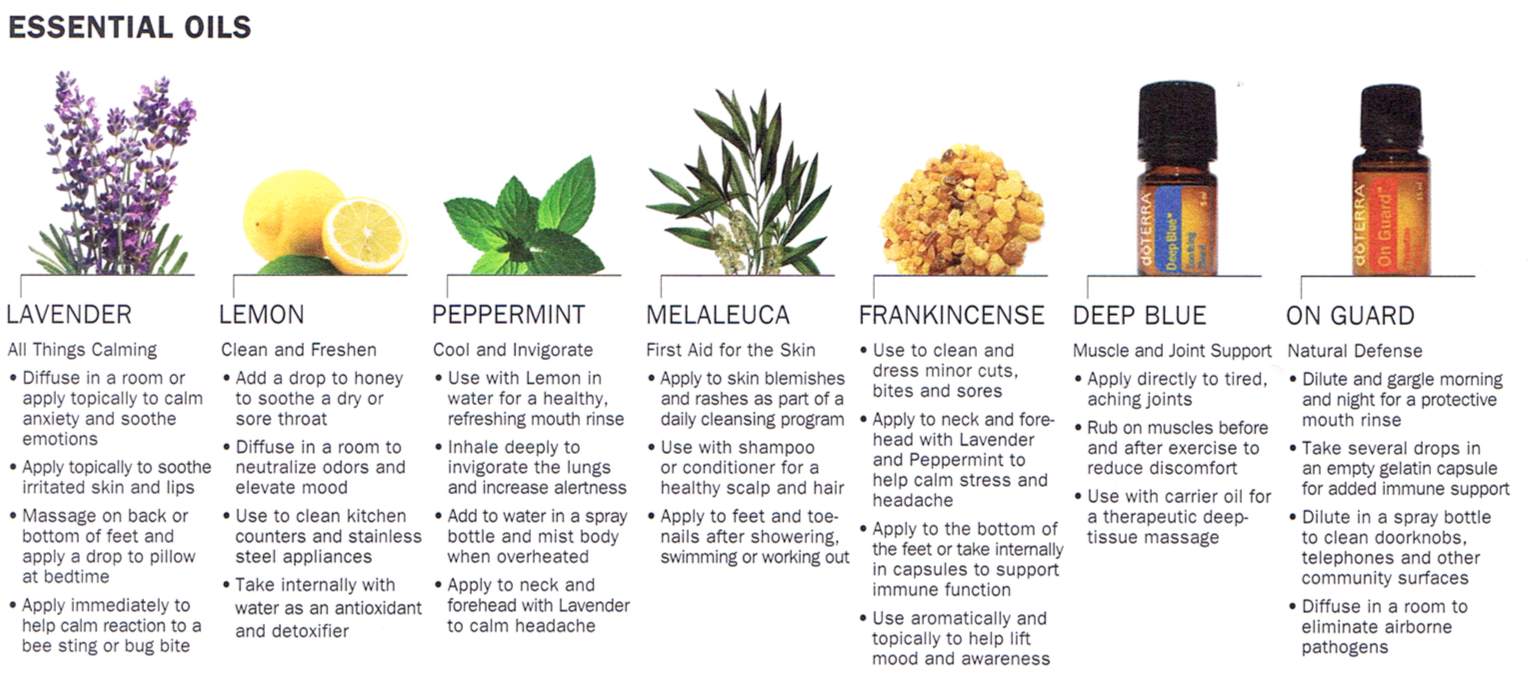 One of my favorite resources is the Live-Guide. There are recipes for cleaning, cooking, and diffusing. Plus ideas to increase alertness without stimulants, traveling with oils, education and oils, and more!
What do you want to prevent?
Start by giving your body what it needs. In the wellness pyramid below, the foundation is "Eat Right." Good food and plenty of filtered water is the key to proper health. The Life Long Vitality supplements fill in the nutritional gaps that a healthy diet may be missing or have in low quantities.

Why We LOVE doTERRA
Years ago diagnosed with lupus and Polycystic Ovarian Syndrome (PCOS). I have been on many treatments which addressed a variety of issues such as pain and infertility. However, they didn't correct the problems. Some of my medications were recalled or caused side-effects that interfered with my daily life. I had all but given up, when I saw a Facebook post by a lady in my area about essential oils. I'd heard of them before, but didn't know what they were. I contacted her and booked a class in November of 2012. She taught the class about cleaning with essential oils and how they can improve my family's health. After my first oils arrived, Shiloah Baker coached me on using essential oils. To my amazement, the pain was soothed, my cycles were more regular, and I wasn't dependent on pharmaceuticals. My husband of 17 years (at the time) started telling everyone he knew that he wished we had learned about the oils in the beginning.
Within a month, people were asking me what changed. Why was I different. I started telling them what I was doing. They wanted to try it, too. I want to help others to learn about essential oils in the beginning. If you have a health concern, no matter how big or small, there truly is an oil for that!
Price List
You're probably wondering which oils are in doTERRA's line up.
USA product guide Let me know if you would like a catalog for another country
You may already have an idea of what oils you want so you can print out this list and use it as a way to keep notes and use it as a wish list. You can buy them individually like this or you can buy them in kits so at the end if you have your list of oils you want to try, then it will help you choose what kit to buy to save you money and get the oils for the cheapest possible price.
Wholesale Membership
A doTERRA wholesale membership is very similar to a Costco wholesale membership. There's a $35 enrollment fee (unless you buy a kit and then the $35 is included) and then you get everything at wholesale price. In order to keep wholesale pricing, all you have to do is buy one item every year. There is no obligation to purchase ever again after signing up.

You'll want to watch this video so you can learn about the benefits you'll be receiving.
Loyalty Rewards Program
Now, I'm going to show you something you are going to want to know about because it will save you a ton of money. It's called the Loyalty Rewards Program. It's 100% optional. It's very similar to a frequent flyer program. With doTERRA it's 100 points a month, which is about 100 dollars depending on what you buy. See these little purple and green boxes right here in the middle of the graphic? See how it says months 1 to 3?  That means that for every $100 you buy, you are going to get $10 back in free product credits that you can redeem any time you want. Remember, you're already getting 25% off of retail. This is an ADDITIONAL 10% off.  The next 3 months it goes up to 15%, the next 3 months it goes to 20%, then 25% and after your first year it goes up to 30% BACK! I've been doing this for a while, so that means every 100 dollars I buy, I am getting 30% back in free product credits that I can redeem any time I want.

Do you want to start at a higher percent back and get hundreds of dollars back? Then, you'll want to choose one of the enrollment kits 400 PV or higher. Here are 3 of the most popular kits that will put you on the fast track (click to enlarge):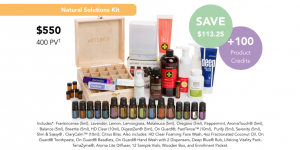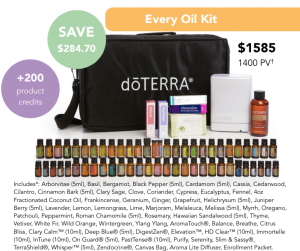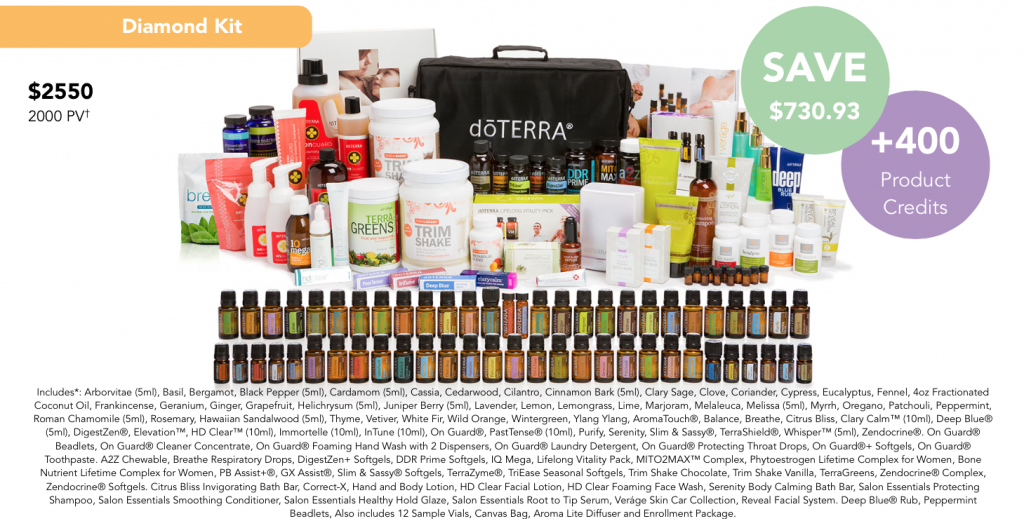 Learn more about the Loyalty Rewards Program in this video:
The Business Opportunity
In my experience, what I have found is that as you learn how to use the essential oils, you WILL share them. When the oils work for your migraine, what do you think you're going to do when your friend or your sister, or your grandma, comes to you with a migraine? You're going to say, 'OH, MY GOODNESS… YOU HAVE TO TRY THESE'. So it's helpful for you to understand a little bit about how this works. Let's look at the graphic below.
If this little purple guy is you and you are doing that 100 dollars a month… Once you have shared the oils with three people who want to do that 100 dollars a month, now you are getting a $50 bonus, and this is on top of your regular paycheck.  Once each of these 3 light blue guys have shared the oils with 3 people each  who want to do the 100 dollars a month now you are getting 250 dollars a month which is really nice, because now you are more than paying for the oils you're buying.
Once each of these 9 dark blue guys have shared the oils with 3 people each who want to do that 100 dollars a month, now you are at a 1500 dollar bonus which is huge! For most families, that is a significant increase to their finances.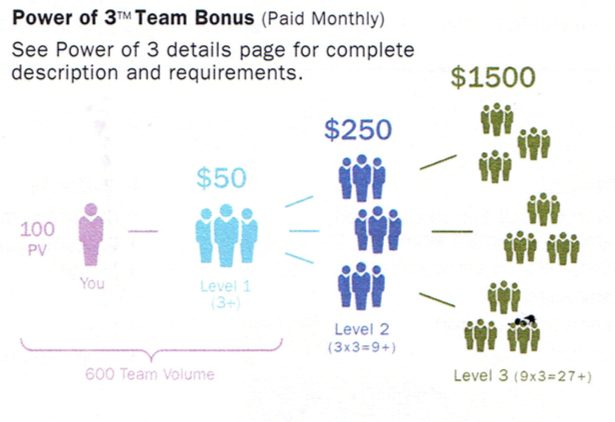 Whether you are interested in building the business or not, as you share the oils with people and they want to purchase the oils, I will help make sure we structure it the right way for you so that you're the one who gets the benefit. So it's helpful for you to understand how this works, even if you're not interested in doing the business.
On Going Incentives
Sign up as a Wellness Advocate, not a preferred member, with a 100 PV order or more and get
A Free Diffuser or 50 PV in essential oils
The Live-Guide and the Share-Guide to help you learn how to use essential oils and share them with your friends and family.Make sure that the enroller field has the number 298934. If it is blank, add 298934. If there is another number, contact me so we can straighten it out.
Optional: Maintain a Loyalty Rewards Program of 100 PV for 3 months and get
a Modern Essentials book for free
Optional: For ever person you sign up as a Wellness Advocate with a 100 PV order you'll get
50 PV in Free Oils
I add at least 1 person to your team
CORPORATE SPECIALS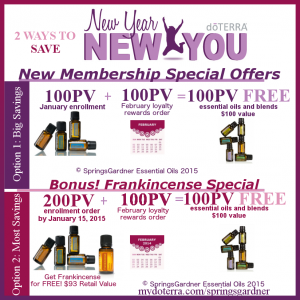 January's enrollment special from doTERRA is the best you'll find year round! Enroll as a Wellness Advocate with 100 PV, process a 100 PV Loyalty Rewards Program (LRP) order in February, and get 100 points ($100 value) to use toward any oils you want! Make sure to check out my on going incentives above so you can save BIG.
 Buy doTERRA Essential Oils
Sign Up Instructions: Sign up as a Wellness Advocate with a minimum 100 PV enrollment order to qualify for my incentives. You can choose to create your own combination of oils plus the $35 enrollment fee or you may want to save even more money by purchasing one of doTERRA's enrollment kits (the $35 enrollment fee is waived for kits). See the kits here: Enrollment_Kit_Flyers.
Make sure that the enroller field has the number 298934. If it is blank, add 298934. If there is another number, contact me so we can straighten it out. 

Questions? Please feel free to contact me via email. Email is the best way to contact me.Do you want to talk over the phone? I am available Monday, Tuesday, Thursday, and Friday from 9:30 AM to 5 PM, most Saturdays from 10 AM to 5 PM. I am not available on Wednesdays or Sundays. I am a homeschooling mom who is also a cub scout leader that likes to volunteer often. Please leave a message if I do not answer and I'll get back to you as soon as possible. Please be respectful, this is my home phone number.

Why Sign up for doTERRA?
World's highest quality essential oils
I will educate you via email on how to use the oils
25% discount off retail prices
No obligation to either buy or sell
Get 50PV of free doTERRA essential oils of your choice with a 100 PV+ (~$150+) initial order.
Optional – 100 PV of free oils if you do LRP (Loyalty Rewards Program) for 3 months
Optional – 50 PV of free oils for every person you sign up (I will train you via email/phone)
I add at least one person to your team for every person you sign up